#ThrowbackThursdays #ICYMI The inaugural 8th grade Spanish Dual Language recognition ceremony was held at Coats-Erwin Middle School in May. All 27 students met the NCDPI AAPL Test expectations and will earn credits for Highschool Spanish I and Spanish II. The AAPPL assesses Interpersonal Listening/Speaking, Presentational Writing, Interpretive Reading, and Interpretive Listening. We are so proud of their accomplishments! A special thank you to our student speakers… CEMS 8th Graders: Aubreigh Carroll, Adair Colmenero, and Cole Stevens HCMS 8th Graders: Karen Martinez Chavez, and Zhania McKoy for raising awareness on the benefits of Dual Language Programs and inspiring others to begin and continue foreign language studies! #SuccessWithHCS #LanguageLearning #BilingualEducation #InspringLearnersToBeLeaders

Amy Crockett (HCS Student Support Services Coordinator), Lauren Cappola (HCS Director of Counseling Services), Jan Rogers (CAC Director and Forensic Interviewer), and Jermaine White (HCS Assistant Superintendent of Student Support Services) look on as Dr. Aaron Fleming (HCS Superintendent) signs the Memorandum of Understanding renewing the partnership between Children's Advocacy Centers and Harnett County Schools. The CAC raises community awareness about child abuse and provides resources for the safety and protection of children. A multidisciplinary team, composed of CAC staff and representatives from all intervening agencies, frequently review active cases. Harnett County Schools Student Support Services staff serve on this multidisciplinary team to best support students and families who may be involved with the CAC. According to Jan Rogers, the partnership with HCS has optimized their ability to serve children, since schools are where children spend much of their time. Harnett County Schools is dedicated to the same mission and is thankful for Children's Advocacy Centers for everything they do for our community. #TogetherWeServe #Children #ChildProtection #WeAreHarnett #SuccessWithHCS

County Commissioners recognized the Harnett Central High School Lady Trojans softball team for their outstanding athletic and academic achievement during the 2022 Softball season. Congrats to the Lady Trojans on a great season and making Harnett County proud.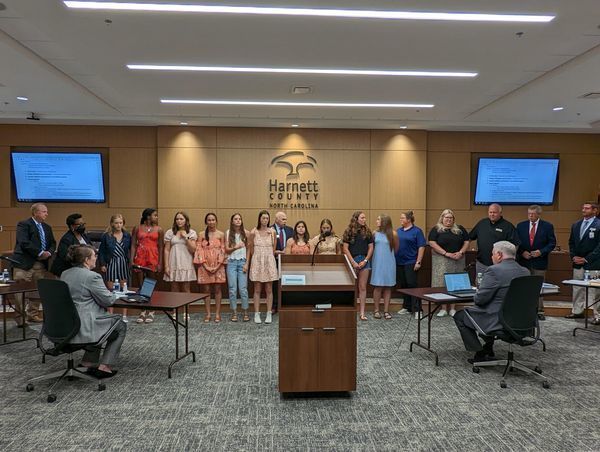 The Harnett County Schools school bus safety program is helping to improve safety for everyone in our community. We spoke to Dr. Fleming, Superintendent at Harnett County Public Schools, about school bus safety, and why this program is so important. #StopForMyBus

June 23rd marks the 50th anniversary of the Pell Grant, the cornerstone of federal financial aid. These grants are some of the most important financial aid resources. The Pell Grants help raise the state's attainment level, particularly among first generation students. To receive a Pell grant, a student must submit a Free Application for Federal Student Aid. Not sure where to go to get help with completing the FAFSA? It's OK to ask for help! Or you can check out the resources here:
https://www.cfnc.org/pay-for.../apply-for-financial-aid/
Watch the video to hear about how these resources have changed lives. Hurry, deadline to apply for FAFSA is June 30th!
https://youtu.be/MccSHaxVSnc
#NCFirstInFAFSA #YourFutureIsOurFuture #SuccessWith #terrifictuesday