You may purchase a ticket for the Harnett Off-Broadway Performing Arts from your child's school. The cost of a ticket is $5.00. Each person attending is required to purchase a ticket. There will not be any tickets sold the night of the event. Tickets will be available for purchase in February.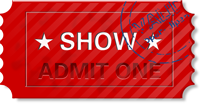 Each school is represented in the Harnett Off-Broadway Art Show. The artwork is judged in four grade configurations: Kindergarten - 2nd, 3rd - 5th, 6th - 8th, and 9th - 12th. There will be a first, second, and third-place winners in each configuration. There will also be given a "Best of Show" for each attendance area.
The Visual Art Show will be from 6:00 - 6:45 before the performances begin at 7:00 each night. The Visual Art Show is FREE!